If you spend any time watching HGTV or perusing Pinterest, then you probably know that rustic features and natural materials are in vogue. The design trend for bringing natural elements inside the home is called biophilic design, and it has some pretty impressive science to back it up. 
Essentially, most people spend more than ninety percent of their time indoors. However, science shows that we're much happier, healthier, focused, and relaxed when exposed to natural elements. This research has led to a meteoric rise in biophilic design in workplaces and homes across the globe. 
Overall, the research has resulted in more people bringing nature and natural materials inside their spaces. However, there's one big caveat to this design method. 
Natural materials are extraordinarily high maintenance. Wood, live plants, natural stone, and other natural elements are notoriously difficult to maintain. Thankfully, there's been a considerable insurgence of low-maintenance, rustic material options that allow you to get the best of both worlds. 
You can enjoy the aesthetic beauty and health benefits of nature – without the headache of maintaining it. 
Let's take a look at some of our favorite low maintenance material options for giving your home a natural look. 
5 Low Maintenance Materials for Your Nature-Inspired Home 
Faux Wood Siding – Nothing screams rustic charm or natural home, quite like natural wood siding. However, natural wood can be a really challenging siding material. It's prone to rot, pests, and fires. On top of that, it requires regular ongoing maintenance.
That's where options like our RusticSeries™ Panels, RusticSeries™ Lap, and RusticSeries™ Shake come in. They offer all the benefits of dreamy wood siding without the maintenance headaches. 
There's a reason that John from Phoenix Roofing Contractors said, "Woodtone's trim and rustic product line is perfect for those homeowners looking for that natural look without the maintenance." 
Vinyl Hardwood Floors – Another fantastic option for homeowners looking to bring nature without the hassle is vinyl hardwood floors. Hardwood is a long-time favorite for homeowners. Now, with more people looking to have natural elements in their home, hardwood floors are becoming even more popular.
The problem is that hardwood floors are challenging to maintain. They're also quite expensive. However, luxury plank vinyl tiles can look almost indistinguishable from hardwood floors but are incredibly easy to clean and keep looking great. 
Engineered Quartz Countertops – Natural stone is a favorite countertop material for homeowners everywhere. Natural stone brings the beauty of the outdoors indoors. However, natural stone countertops and floors require special cleaning products and care routines to maintain. 
This is where engineered quartz comes in. Engineered quartz is exceptionally durable and a breeze to maintain. It's a human-made stone that many buyers are choosing to replace their natural stone projects. 
Faux Greenery – Plants are a surefire way to bring the outdoors inside. However, keeping plants alive is much more complicated than it should be. While you can always go with low maintenance varieties like succulents or bonsai trees – they don't have quite the same nature vibes as more demanding varieties. 
While faux greenery used to be taboo in home design, it's making its way back into homes. As a result, the faux greenery and plant market has come a long way towards looking more natural and visually appealing. In other words, the faux plants of today aren't the same faux plants your grandmother had, and they can really help to bring your natural aesthetic together in a low-stress way. 
Vinyl Wallpaper – Vinyl wallpaper is resistant to water, grease, and stains, making it a preferable alternative to traditional wallpaper. Many people are using vinyl wallpaper to add natural patterns and elements to the inside of their homes.
Many vinyl wallpapers can come in nature murals and photographs. In other words, you can have a picture of the Rocky Mountains, a forest, ocean, or some other natural landscape as the backdrop to your room. Vinyl wallpapers can also come printed with a natural symbol's repeated pattern, like a leaf or flower. 
Final Thoughts on Giving Your Home a Little Natural Appeal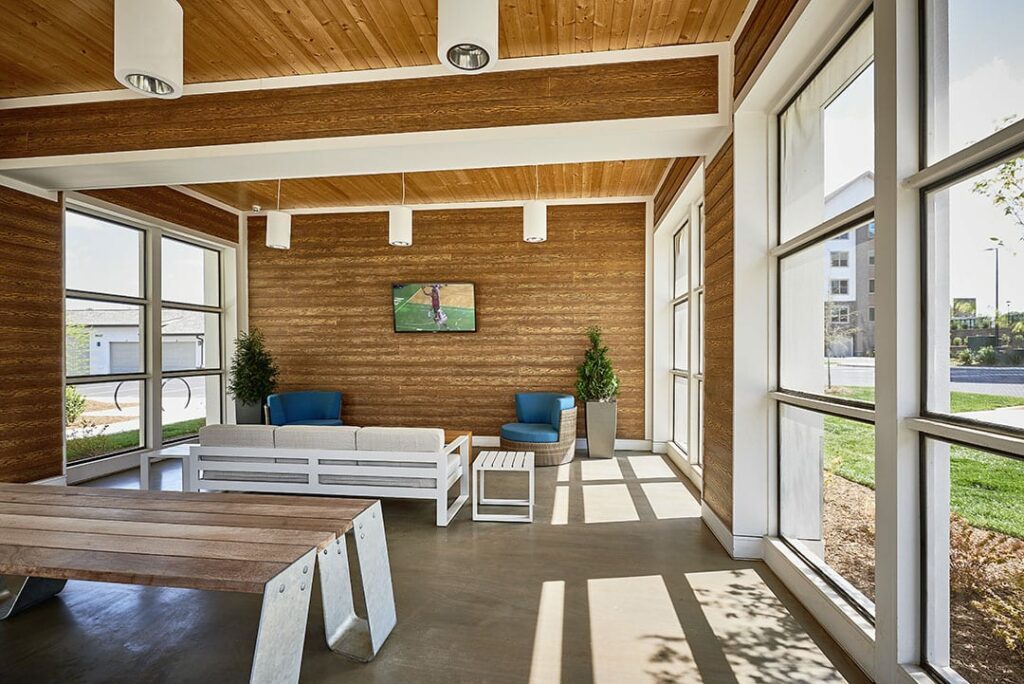 These are just a few ways to incorporate low-stress materials into a natural-inspired, rustic motif. Be sure to allow plenty of natural light because most designers agree that natural lighting makes a huge difference in biophilic design. 
Ultimately, if there's a natural material or decoration, you love the chances are that there's a faux alternative that's a lot less fussy. Check out our entire rustic series to get an idea of how natural elements and easy maintenance can marry for beautiful results. 
Skylar Ross is a contributor to the Innovative Materials blog. He is a content writer for the construction and home improvement industries with an interest in landscaping, outdoor remodeling, and interior design. Skylar is focused on educating homeowners, contractors, and architects on innovative materials and methods of construction that increase property value, improve sustainability, and create a warm and welcoming ambiance.