Be Part of the Woodtone Team
Woodtone has been driving innovation and raising expectations in the building industry since 1977 – but our biggest passion is so much more than that. We are a family owned and operated business and our owners make a point of ensuring each team member feels like family. We give our staff a reason to get excited about the business. Keep scrolling for current job opportunities.

Represent a company that cares
We believe that a strong team builds a strong foundation for success, so we devote the time and effort in selecting the best candidate for each position. We are a family-owned company and we're committed to always be there for our employees, our customers, and our partners.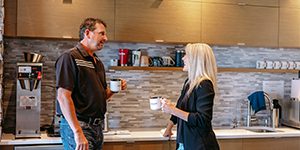 Explore infinite possibilities
We are dedicated to offering opportunities that allow team members to develop and advance. We strive to give employees the opportunity to learn on a daily basis and pride ourselves in being able to offer mobility to those who wish to explore various career paths.

Discover a great community
Chilliwack, Armstrong and Everett are full of natural beauty, ample lifestyle opportunities and thriving businesses, not to mention low taxes, affordable housing and exceptional quality of life. Discover the many benefits of being surrounded by nature, living in community-minded neighborhoods.