Is it time to install or replace siding on your commercial property, and you wonder about the most suitable solution? You can be old-fashioned and go with traditional metal siding. However, you can also try an innovative solution that comes in the form of Chrometallics™ siding by Woodtone.
Chrometallics™ is a fairly new addition to the market, but you can see it on more new builds every day. It's become a favorite choice of commercial builders, but why is that the case? Let's look at the major characteristics and benefits of using Chrometallics™ instead of traditional metal siding!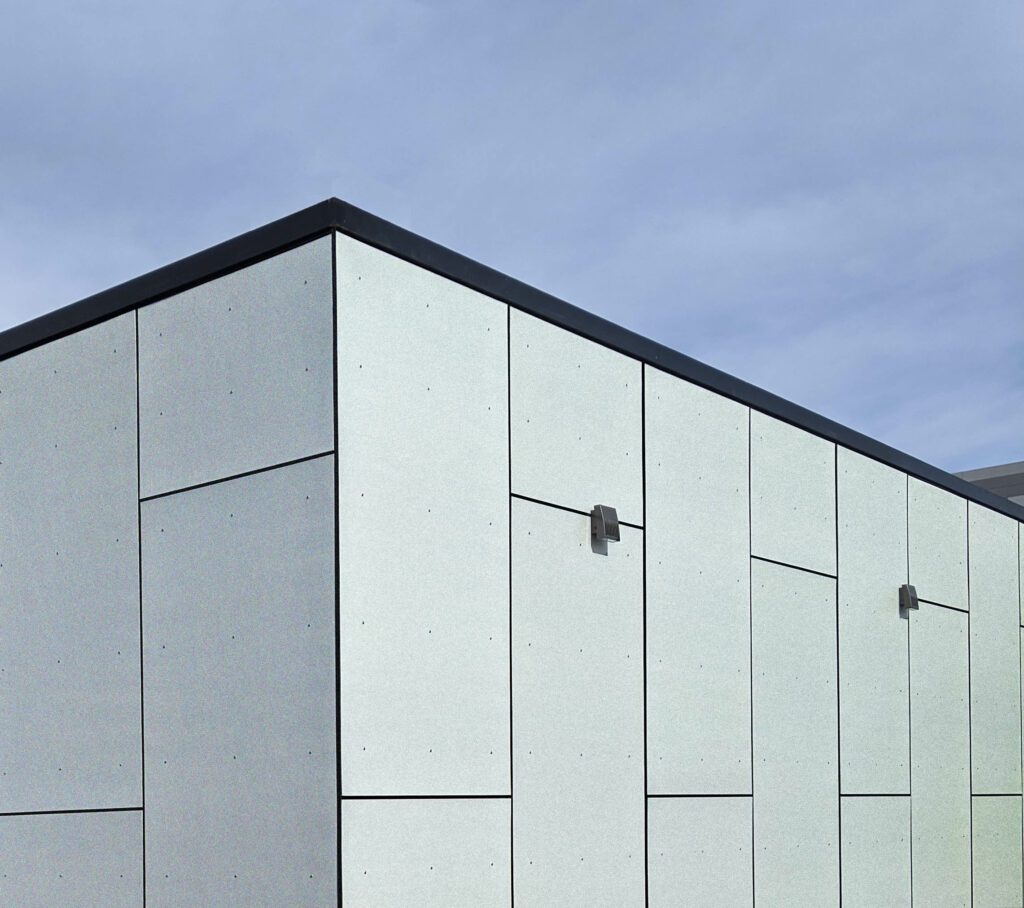 1. Durable and Long-Lasting
As a commercial property owner, you don't want to bother with replacing your siding every few years. That's why you need a durable solution that can last for a long time. The Chrometallics™ developers at Woodtone took care of that by using premium quality materials to secure impressive durability.
Chrometallics™ is warranted for 15 years, and that's an additional guarantee on top of the warranty you get for the engineered wood or fiber cement substrate.
2. A Luminous Metallic Finish
While the durability and performance of your siding are crucial, it's also essential that its appearance is flawless. If you are a fan of metal siding, the odds you like that luminous finish these solutions provide. Chrometallics™ not only mimics that finish but takes the entire aesthetics to the next level.
You will appreciate how this siding looks on your property. It's worth noting that it's suitable for different structure types. Chrometallics™ is suitable for commercial, multi-family, and residential applications. It can improve the appearance and make the structure more inviting from the outside.
3. Pick Between a Variety of Colors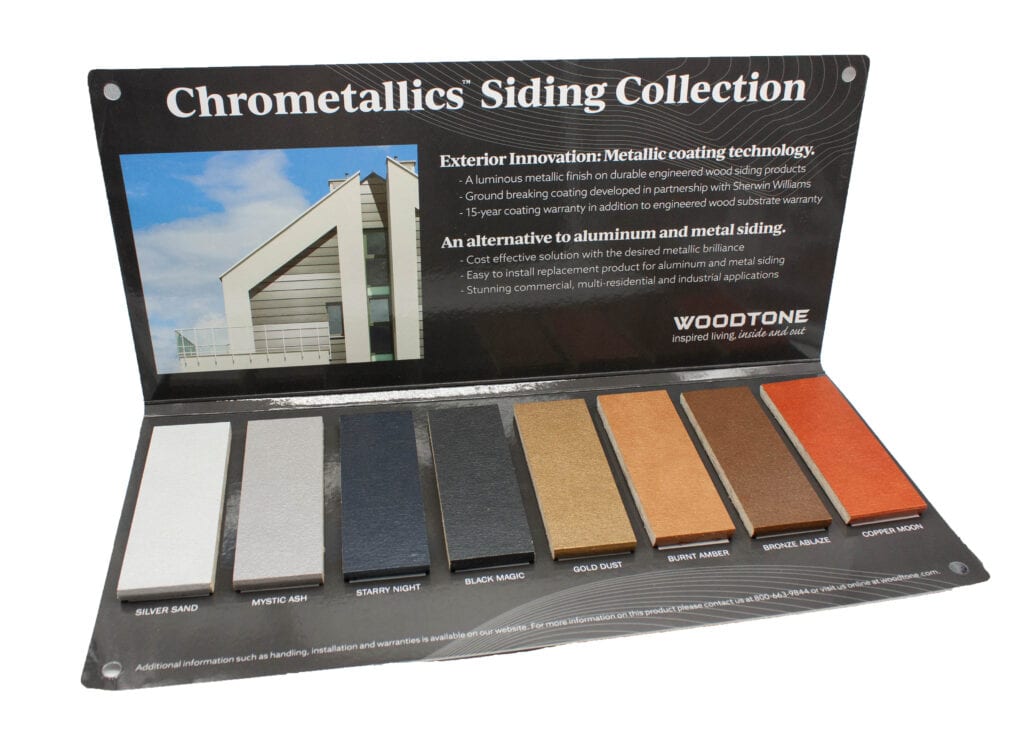 https://woodtone.com/chrometallics-metallic-coating-on-fiber-cement/ 
Whether you are installing garage doors or siding, colors are always a matter of preference. That's why it's vital to have multiple choices, and that's precisely what you'll get with Chrometallics™ lap and panel siding.
If you need a neutral color, the Silver Sand shade can be a smart choice. Mystic Ash is another versatile solution, or you can go with Copper Moon and Gold Dust. Some darker variations include Black Magic and Starry Night. Woodtone was creative about the names, plus they put in the extra effort to offer eight different color variations.
4. It's Not Expensive
It doesn't matter if you work on a metal shake roof or another project; it's vital that you stay within the estimated budget. We know that times are tough, and that's why everyone is looking for solutions that have the best ratio of price and quality.
That's a suitable description for Chrometallics™ siding. You'll find that it's a cost-effective solution and a smart long-term investment. If you compare it with traditional metal siding, you discover that it delivers more while offering a similar price range.
5. Easy to Install
Thanks to its fiber cement or engineered wood substrate, Chrometallics™ is an easy to install alternative for aluminum and metal siding. Please follow the substrate manufacturer's instructions for a simple and successful installation.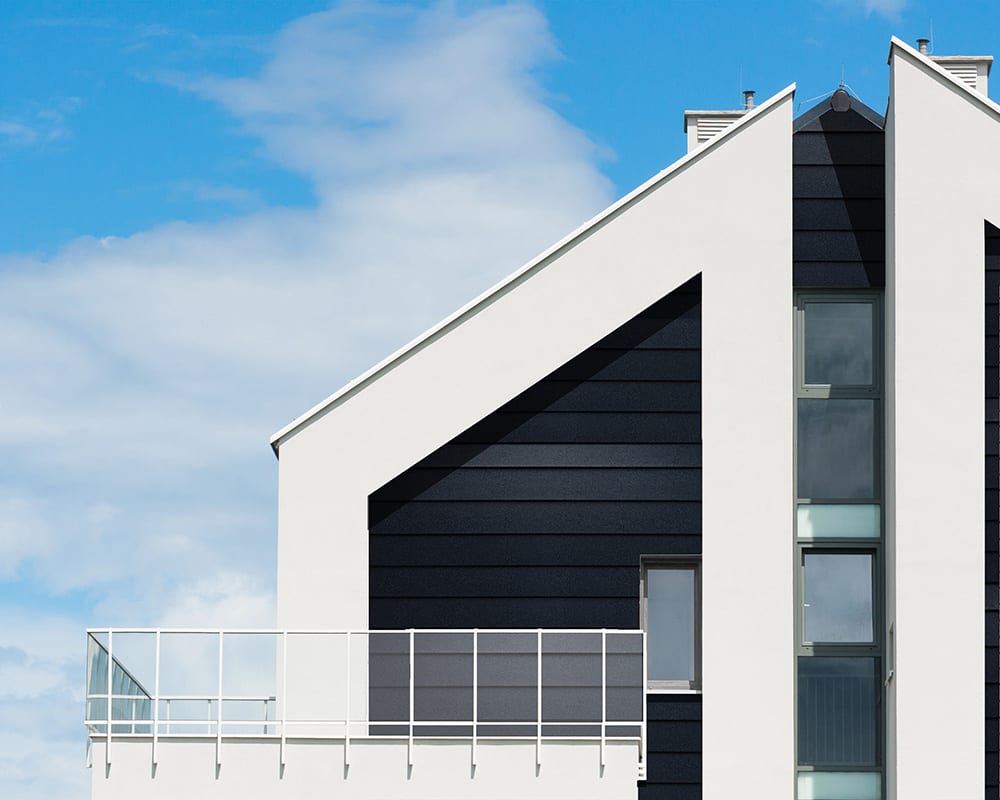 Final Thoughts
That rounds up our guide on the benefits and characteristics of Chrometallics. It's a refreshing addition to the market that offers an attractive and functional siding solution. You can pick between an impressive color variety and receive a generous warranty with the product. Chrometallics is compatible with engineered wood and fiber cement substrates and is suitable for residential and commercial properties.
Skylar Ross is a contributor to the Innovative Materials blog. He is a content writer for the construction and home improvement industries with an interest in landscaping, outdoor remodeling, and interior design. Skylar is focused on educating homeowners, contractors, and architects on innovative materials and methods of construction that increase property value, improve sustainability, and create a warm and welcoming ambiance.